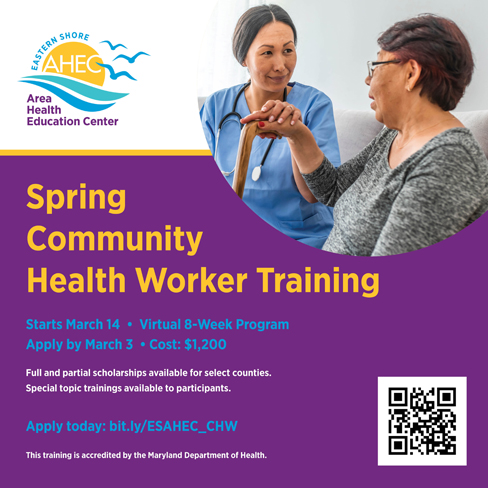 Our Community Health Worker Training program is offered online in a virtual classroom setting. Students who successfully complete the program learn the required skills needed to be successful in the healthcare field. Becoming a CHW allows you to be an advocate for patients while giving back to your community. Our current program is offered twice a year in the spring and fall. Apply today: bit.ly/ESAHEC_CHW
The Maryland AHEC (MAHEC) CHW curriculum provides a 140-hour (100 hours classroom/40 hours practicum), competency-based training that covers the 9 Maryland Department of Health core competencies:
Advocacy and community capacity building skills
Effective oral and written communication skills
Cultural competency
Understanding of ethics and confidentiality issues
Knowledge of local resources and system navigation
Care coordination support skills
Teaching skills to promote health behavior change
Outreach methods and strategies
Understanding of public health concepts and health literacy
Although unified under the MAHEC Program name, the CHW training is scheduled and delivered by each of the 3 regional AHECs
Benefits
Specialized training (i. e. Diabetes, HIV, Sickle Cell etc.)
Small classroom setting
Join a network of professionals engaged in healthcare
In person CPR BLS Certification offered for local students
Certified CHW program in the state of Maryland
Since 2013, MAHEC centers have trained over 400 CHWs who are employed in health departments, hospitals, community-based agencies, AHECs, federally qualified health centers (FQHCs) and many others.
Our talented instructors represent an array of experiences in education, healthcare, and human services.
The MAHEC CHW Training Program offers competitive pricing for groups and individuals.